Summer courses for guitar, violin, viola, cello and ensemble playing
The Benediktbeuern Abbey is located in picturesque surroundings, halfway between Munich and the violin-making stronghold of Mittenwald. With its spacious and atmospheric halls it provides the ideal environment for you to immerse yourself in music in a thoroughly baroque ambience.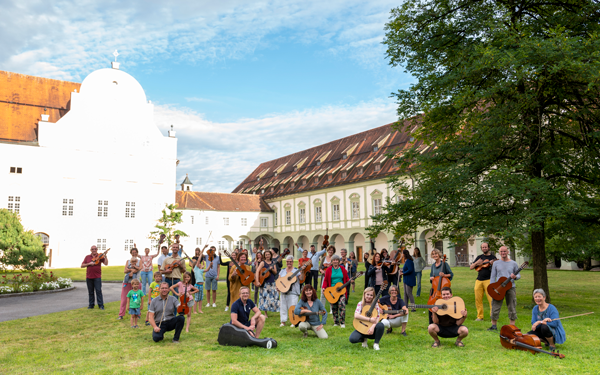 The Benediktbeuern Music Week unites musicians and music lovers from all walks of life who come together to get musical inspiration. The monastery has a unique atmosphere that shapes both the exceptional character of the course and its tradition. Over 40 years ago, the guitarist Prof. Robert Brojer founded a Guitar Week, which the teachers have subsequently developed and expanded into what it is today. While the traditional spirit has always been maintained, new ideas have also taken shape.

2020: Music courses for guitar, violin, viola, cello und ensemble playing
2020 has seen a significant expansion of the Music Week: in addition to the courses for classical guitar, new courses for violin, viola and cello will now be offered.
For beginners, returnees and ambitious hobby musicians
No specific level is required to participate in the Benediktbeuern Music Week. Due to the high frequency of lessons and one-to-one tuition, musicians of all levels benefit highly from taking part. The Music Week is particularly attractive for amateur musicians who want to improve their skills on their instrument or in ensemble playing.
For adolescents and adults
The Benediktbeuern Music Week is open to participants of all ages, both young people and adults are very welcome. We believe that learning to play an instrument is possible at any age. We have had some wonderful experiences with seniors, who at an advanced age decided to start experiencing the joy of playing a musical instrument.
Lessons for individuals and ensembles
The course involves daily individual lessons on the participants' respective instruments. Furthermore, emphasis is placed on professionally supported ensemble playing. The Benediktbeuern Music Week is open to existing ensembles (such as string duos, trios or quartets) who receive professional guidance to improve their playing and develop a shared repertoire.